Festival Highlights
Thousands of baskets with candles floating on the river at night
Swarms of lanterns flying to the sky in Chiang Mai
A Buddhist purification ceremony to cleanse your spirit
Releasing negativity and making a wish for the future
Candles flickering in the streets at night
Traditional Thai dance shows, performanc es, and parades
Loy Krathong & Yi Peng take place on the same day
Loy Krathong (the floating lantern festival) and Yi Peng (the sky lantern festival) are two of Thailand's most famous festivals (also known as the Thailand Lantern Festivals) that both take place on the same day.
In 2020, Loy Krathong will take place on October 31 while Yi Peng will take place on both October 31 and November 1. These celebrations are both light festivals that take place on the full moon day in November.
Loy Krathong is celebrated nationwide by releasing lotus-shaped baskets decorated with candles and flowers onto the rivers and waterways throughout Thailand. Chiang Mai, Sukhothai, and Bangkok are the best places to celebrate this festival. If you want to visit all three cities, check out this 8-day Loy Krathong itinerary and contact us to tailor-make it to your taste!
Yi Peng is celebrated on the same day alongside Loy Krathong in Northern Thailand, especially in Chiang Mai. Yi Peng is different from Loy Krathong in that lit lanterns are released into the sky instead of onto water. Swarms of sky lanterns, decorated with good luck wishes and prayers are released to the sky on the two nights of celebrations.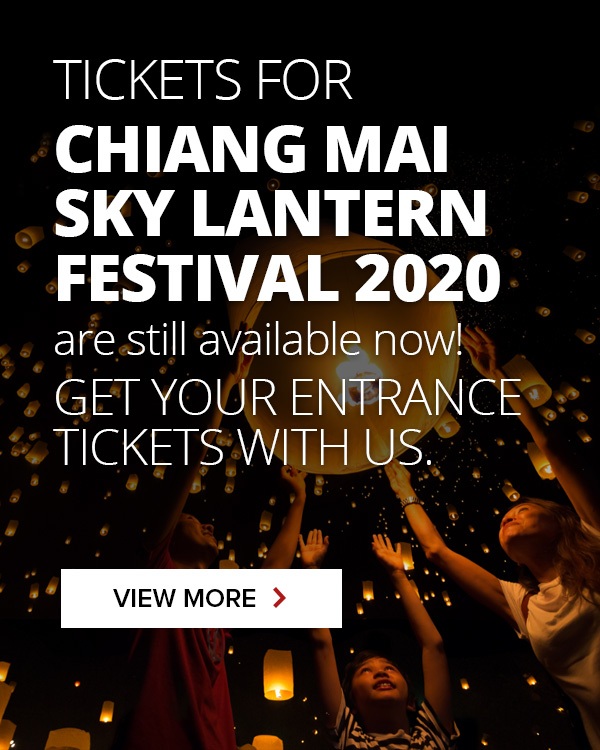 Get an entrance ticket to Yi Peng
In 2020, the Yi Peng Festival will be observed on October 31st at Chiang Mai CAD location. Asia Highlights is the official partner of Chiang Mai CAD. Tickets for the Chiang Mai CAD Lantern Release 2020 are still available now (updated on October 20, 2020).
Our customers who buy 2 tickets will get 1 free night at Sunny V Hotel Chiang Mai with breakfast. Get your entrance tickets for Chiang Mai CAD now!

Loy Krathong — The Floating Lantern Festival
In Thai, loy means to float and a krathong is a small container, traditionally made from banana leaves and a slice of banana tree. Krathongs often contain a candle, incense sticks, and flowers. The krathong floating on the water symbolizes one's willingness to let go of hatred and anger. Loy Krathong is one of Thailand's most-loved festivals, occurring at the November full moon to mark the end of the rainy season.
On the night of the festival, Thai people make a wish as they launch their krathongs onto the rivers, canals, and lakes. Some people place hair and fingernails inside the krathong to symbolize letting go of their past mistakes and negative thoughts. It is a purification ceremony to enlighten the mind and bring good fortune. For more information, check out the 20 things you didn't know about Loy Krathong.
Why Loy Krathong is Celebrated
It is believed that Loy Krathong originated with paying homage to the spirits of the rivers and thanking the water goddess for the rains. Many Thais also believe that it is a time to ask for forgiveness for any contamination of the waterways over the previous year.
According to Loy Krathong legends, 800 years ago a woman named Nang Noppamas was the first one to create a krathong and release it on the river during the full moon festival to honor Buddha. She impressed the King of Sukhothai so much that he decreed every year afterward the festival would be celebrated in the same way.
Today, Loy Krathong is still a very religious festival in nature and if you want to see more of that side of the celebrations, head to the local temples to see monks meditating and lighting candles in celebration.
Where and How to celebrate Loy Krathong
Celebrated all over Thailand, the most exciting Loy Krathong festivities take place in Chiang Mai, Sukhothai, and Bangkok as people gather at rivers to float krathongs and watch folk dancing or sound-and-light performances. Sukhothai is the best place to go if you want a more local and cultural experience, Bangkok is great for a quick trip to Thailand, and Chiang Mai is the only place where you can see both Loy Krathong and Yi Peng Festivals in the same day.
Because Loy Krathong is celebrated all over Thailand, you can really pick any destination and you'll see locals releasing krathongs for the festival. If you want a more relaxing experience and don't want to deal with the crowds in Bangkok or Chiang Mai, head to Phuket and release your krathong out to sea.
Yi Peng — Chiang Mai Sky Lantern Festival
Yi Peng (or Yee Peng), is the other Thai lantern festival celebrated in Northern Thailand at the same time as Loy Krathong. Yi Peng is a Lanna festival with the largest celebrations held in Chiang Mai (the ancient capital of the former Lanna Kingdom).
The highlight of this festival is the numerous sky lanterns propelled by flames at their base that are released and 'float' up into the sky. These sky lanterns are called khom loi in Thai, which means floating lanterns.
The khom loi are made of rice paper stretched over a bamboo frame with a candle attached at the base. The hot air from the candle is trapped inside the lantern and making it rise from the ground. However, since the lanterns can be dangerous, the release of sky lanterns is being subjected to more and more government restrictions each year.
Besides the Khom Loi sky lanterns, you can see many different types of lanterns around Chiang Mai during Yi Peng: Khom fai are paper lanterns that decorate homes and temples. Khom tue are lanterns that are carried on a stick. Khom pariwat are revolving lanterns placed on temples.

Origins and traditions of Yi Peng
Deeply rooted in Buddhism, some people believe Yi Peng originated in India with the legend of the candle-carrying bird which once visited the Gautama Buddha and spoke to him about merit. In Thailand, paying respect to Buddha is regarded as a way to be reborn into the next life to enjoy great popularity and purity.
During the festival, people launch lanterns into the sky as if launching their own bad luck and mistakes into oblivion. If your lantern disappears into the dark before the light goes out, you will have an extremely good year. Conversely, if your lantern crashes, your next year will be full of bad luck.
A typical schedule of Yi Peng
The Chiang Mai, Yi Peng Festival 2020 will be mainly celebrated through two events: The Yi Peng International Lantern Release by the Lanna Dhutanka Buddhist Center and the Chiang Mai CAD Lantern Release. Both share a similar schedule for the evening.
In 2020, the Yi Peng Festival will be observed on October 31st and November 1st at the CAD location and on October 31st at Maejo University according to our estimates (it is usually observed on the full moon day in the 2nd month of the Lanna calendar every year).

Best places to observe Yi Peng 2020 — Mae Jo University vs. Chiang Mai CAD
Although the Maejo University Lantern Release is the most famous one, we've found that our customers often prefer the Chiang Mai CAD release. A few reasons for this are that the tickets for the CAD event are more affordable, each guest gets 2 lanterns, the wide array of cultural performances, and the convenience of tickets that can be bought well in advance.
The Yi Peng celebrations at Mae Jo University get a late approval every year meaning that the location is often not confirmed until a month or two before the festival. Tickets also do not go on sale until 1 to 2 months before the celebration takes place. For planning convenience and the purchase of international flights, we often recommend attending the Chiang Mai CAD Lantern Release.
Best Yi Peng Lantern Mass Releases: Maejo University vs. Chiang Mai CAD
Event Name

Yee Peng Lanna International

CAD Khom Loi Lantern Festival
Location

TBA-- likely Lanna Dhutanka, behind Maejo University

Chiang Mai Air Sport Farm
Why there
The most famous place to see the lantern release and is held at the temple with a rich religious atmosphere.
Held outdoors. It is a religious ceremony but also includes cultural performances. The VIP price is more reasonable and tickets can be bought much earlier. Unlikely to be canceled.
Hosted by
Lanna Dhutanka Temple
Chiang Mai Culture Art and Design (CAD)
Nature of Organization
Nonprofit organization. Facilities are sponsored by local enterprises and the entire profit of the Lantern Festival goes towards public welfare services.
For-profit organization and part of the local government which is why they receive early approval every year.
History
Began in 2013 and has been held annually with late approval every year.
Began in 2016 and held annually with early approval every year.
Date
TBA, 2020
October 31, 2020
Capacity
3000 seats
3500-4000 seats (2000 seats in 2020)
Children Policy
Free entry for children under 12 years old (no seats provided), though they are not encouraged to participate. The center takes no responsibility for their safety.
Children may be asked to leave if they fail to follow security policies or are noisy and disturb other participants.
Free entry for children under 8 years old, adult ticket required for children at or above 8 years old.
The center is not responsible for their safety during the event.
Online ticket booking(most sold via an agent)
Standard and Premium seats for USD 300, both include one lantern.
Tickets are likely to be available around September 1 and will likely be sold out in 3 weeks.
Standard (with one lantern) and VIP (with 2 lanterns) seats start at USD 198.
Tickets are already on sale.
Similarities
1. They share a similar festival schedule
2. Tickets include round-trip transfer
3. Follow Buddhist etiquette for dress code and manners
4. Volunteers help release lanterns and take pictures
5. Children are advised to purchase tickets in advance in case they are stopped at the gate.
How to Get an Entrance Ticket to Yi Peng 2020
All visitors need to buy an entrance ticket to participate in a mass lantern release. Once tickets are on sale, they are often sold out quickly. For visitors wishing to join the festival, we suggest that you book the ticket package with an authorized agency via an online platform. Please check what is included in your ticket package before booking.
Most-read Lantern Festival Articles
Other Beautiful Asian Festivals You Can't Miss
Visit Thailand during Thailand Lantern Festival
Is it Safe to Travel to Asia During the COVID-19 Outbreak?
November is the best time to visit Thailand as it is the start of the dry season with cool weather right before the peak season sets in! Itineraries below cover the essence of Thailand from Northern Thai culture to sunny southern beaches. All can be tailor-made to meet your time frame and unique requirements. Check them out for inspiration!

Chiang Mai
We have a limited number of tickets available at the Chiang Mai CAD Air Sport Farm and Mae Jo University!

Bangkok-Chiang Mai- Phuket
Explore the very best highlights and local experiences of Bangkok, Chiang Mai, and Phuket on this 10-day journey.

Bangkok, Sukhothai, Chiang Mai
Experience the local culture and tradition of Loy Krathong, and a thrilling sky lantern release during the Yi Peng Festival in Chiang Mai.

We're here to help! Our dedicated experts will support you 1:1 in planning and on the trip!